Related eBooks

By: Express Web Desk | New Delhi |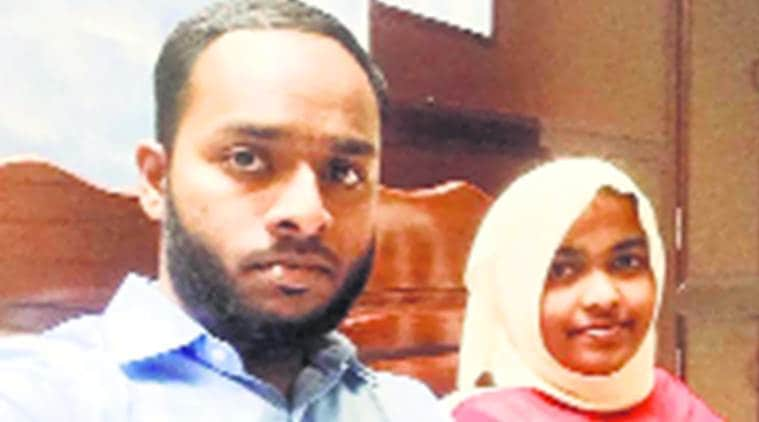 Shafin Jahan and Hadiya (file photo)
The Supreme Court on Tuesday said that National Investigation Agency (NIA), which is probing the alleged case of 'forcible conversion' in Kerala, can continue with its probe but it cannot investigate into the marital status of Hadiya.
A three-judge bench, headed by Chief Justice of India (CJI) Dipak Mishra, said it cannot get into the choice of Hadiya in her marriage. "Whether the man to whom she is married is good or not is for her to decide…Whether its independent choice or not, only she knows. If she comes to court and says she is married by her choice, that's the end of it…", observed the CJI.
"We are not concerned with it (probe). Whether you (NIA) carry on your investigation or arrest someone, we are not concerned," the bench also comprising Justices A M Khanwilkar and D Y Chandrachud said. "You can investigate it but you cannot investigate about their marital status," the bench said.
The top court also said that Hadiya, alleged to be a victim of love jihad, had appeared before it and had specifically said she had married Shafin Jahan on her own. The bench also observed that it would examine whether the Kerala High Court was correct in annulling the marriage while hearing a Habeas Corpus petition.
"We are only concerned with the choice of an adult to marry someone," the bench said. The court will next hear the matter on February 22.
The apex court made these observations while hearing Hadiya's husband Shafin Jahan's plea against the Kerala High Court annulling their marriage.
On November 27, last year, the apex court freed Hadiya from her parents' custody and sent her to college to pursue her studies, even as she pleaded to be allowed to go with her husband. The court took the decision after interacting with the 25-year-old woman, a Hindu by birth who had converted to Islam and married Jahan.
(With PTI inputs)
For all the latest India News, download Indian Express App
© IE Online Media Services Pvt Ltd
Jan 23, 2018 at 1:41 pm

The question is why did Shafin Jahan not convert to Hinduism, if this was a love marriage. It is always the case that when a non-muslim marries a muslim in India he or ahe has to convert to islam and not the other way around. Personal choice and individual freedom are fine as upheld by then liberal seculars in the country but they never point out this anomaly that MUSLIMS DO NOT CONVERT TO HINDUISM OR OTHER RELIGIONS FOR LOVE,FREEDOM OF CHOICE OR WHATEVER! It is a sad state that Hindus especially women who go into inter-faith marriages with muslims do not insist on remaining within Hinduism or conversion of the other party to Hinduism.

Reply

Jan 23, 2018 at 1:34 pm

A very tight slap on bhakts brigade

Reply

Jan 23, 2018 at 1:32 pm

Theoretically it is fine if she marries somebody of her will. But why should she convert? The way she has covered her head. It is very sad. I would have not minded if she has married and not converted. At least in worst case she should have remained modern and not covered her head in that silly hijab.

Reply

Jan 23, 2018 at 12:51 pm

Forced Conversion of Islam What does Islam really teach about forced conversion? Muslims are told to fight unbelievers until they are either dead, converted to Islam, or in a permanent state of subjugation under Muslim domination. Allowing people of other faiths to live and worship independently of Islamic rule is not an option. During these later years, Muhammad did not seem at all bothered by conversions that were made under obvious duress. These include that of his sworn enemy of Abu Sufyan and his wife HIND. According to Muslim historians, when Abu Sufyan went to seek peace with Muhammad, he was instead forced to embrace Islam. The exact words spoken to him in Muhammad's presence were, "Submit and testify that there is no God but Allah and that Muhammad is the apostle of Allah "BEFORE YOU LOOSE YOUR HEAD"—-he did,— (Ibn Ishaq/Hisham 814, Ibn Kathir v.3 p.392),—-Jai hind.

Reply

Jan 23, 2018 at 12:24 pm

This is known as harakiri committed by the sangh parivar as well as all those Sanghi jurists who were complicit in the miscarriage of justice on a subject of fundamental rights of an individual. Propaganda based on lies, deceit and fraud cannot be legalized.

Reply