Related eBooks

14 Classy But Offensive Teacups To Use When Your Enemy Visits You
I badly need these for some people I know!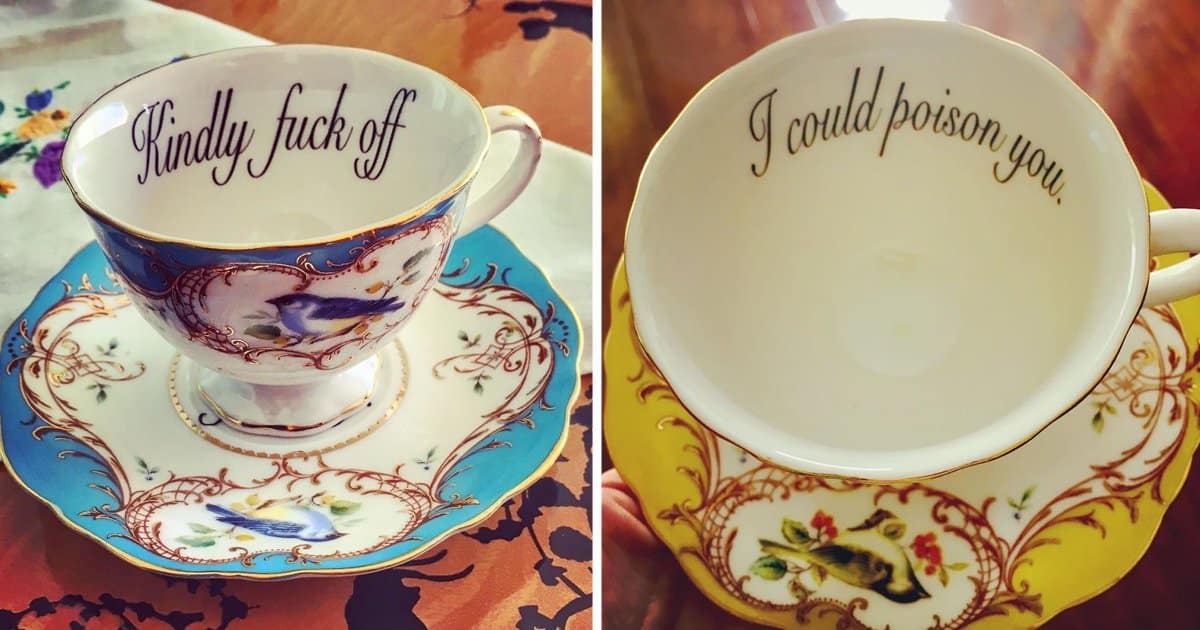 They look delicate and classy and yet it's actually a big insult when someone decides to use them to serve your beverage. These teacups are definitely not your grandmother's old-fashioned ones – and they are not recommended for the faint of heart.
Created by Miss Havisham, these unique teacups are "for the lady who speaks her mind." The tableware collection is indeed absolutely funny as they are vulgar – with phrases such as "Kindly f**k off," "I could poison you," and many others.
Melissa Johnson, the brains behind Miss Havisham, shared:
"A wise woman once told me, 'If you got hate in your heart, you gotta let it out.

"By far, our favorite way to release it is by stewing over a scalding cup of tea."
As for the inspiration for the project, Melissa explained:
"I've been an animation producer for 20 years and this was a much needed creative outlet.

"My grandmother was a (crazy) sometimes-antique dealer and I grew up in an eccentric family surrounded by lovely, but often broken, things. Every woman in my family is a Miss Havisham to some degree so I guess old and creepy imprinted on me because pretty much everything I love is chipped and discarded."
Check out the photos below:
#1.
#2.
#3.
#4.
#5.
#6.
#7.
#8.
#9.
#10.
#11.
#12.
#13.
#14.
"I love the juxtaposition of high brow and low. Here are these delicate and prissy cups that aren't really what they seem on the outside and neither are most of us. They have a history and they also have spunk. Context is really everything. They can be super mean I suppose but if you don't get my sense of humor there's really nowhere to go from there."
Surprisingly, the most popular item in their collection is "We hate your baby."
"No one is going to say that out loud but we've all thought it at one time or another. Oddly enough, that cup is particularly popular with parents which surprised me."
If you're interested to purchase one or a set, go check out the official Miss Havisham website or follow them at Facebook and Instagram.
Teen Cancer Survivor Gang-Raped By Friends And Raped Again By Supposed Rescuer
She thought she had found a good samaritan – but she was so wrong.
A minor who has just finished her battle with cancer experienced yet another traumatic event that left her with a deeper scar. While she's starting to appreciate her life again, she loses faith in humanity as she was gang-raped and left in abandoned place just to be molested for the second time.
A 15-year-old cancer survivor was reportedly raped by two of her own friends last weekend. According to reports, the teenager was set to buy groceries from a nearby market in Lucknow, Uttar Pradesh, India at around 4:30 in the afternoon last Saturday.
A teen cancer survivor in India was gang raped by her friends over the weekend.
While picking items at the market, she reportedly met a friend identified as Shubham who offered to drop her at their home using his bike. However, instead of taking the lady to their house, she was reportedly taken to a secluded place where Shubham and another friend named Sumit gang-raped her till about 11 pm in the night.
After the attack, the assailants left their victim by the side of the road and fled.
The girl said she was lying down when she called out a passerby for help.
The minor said she told the man about the crime but instead of helping her, the man, identified as Virendra Yadav, raped her again. She was again left on the road where she laid for a few hours. Local residents alerted the local police about the victim at around 2 a.m. The police reached the location and took the girl home.
The girl's father already pressed charges against the suspects. Lal Pratap Singh's Circle officer (CO) Sarojini Nagar confirmed the incident and a police spokesperson said they already arrested Yadav on Sunday morning from Bijnaur Chauraha. The officers are still searching for the two other culprits.
The victim has already undergone medical assessment to confirm the rape. The minor reportedly just finished undergoing treatment for her blood cancer, which lasted for five years at a hospital in Lucknow.
Prolonged Use Of Headphones Can Cause Blackheads In The Ear, Doctor Warns
You might limit your headphone use after watching this.
We've seen too many videos of blackhead popping all over the internet lately. Now, a doctor is warning that wearing headphones for prolonged periods may actually lead to the formation of blackheads in the ears.
While hormones and genetics are always blamed as culprits in the formation of blackheads and acne, everyday habits that could irritate the skin may play a huge role, too. Well, one habit that may take a toll on your skin is excessive use of gadgets, such as headphones.
Some people wear their headphones everywhere they go – the gym, at school, work, subway and during long drives.
Though listening to music helps you release the stress, which is good for the health, it might irritate the skin inside your ears.
Normally, blackheads develop on the face, particularly on the nose and chins. However, did you know that blackheads can also form inside the ears? It might sound gross, but one doctor said that using the headphones too much may contribute to this condition.
In one segment of "The Doctors", the outer part of the ear contains many sebaceous glands as the noses and chins do.
These sebaceous glands are responsible for secreting oil, which can cause blackheads.
The good thing is, practicing good hygiene like cleaning the skin inside the outer ear is essential to make sure the pores are not clogged. Also, limiting the use of headphones can reduce skin irritation, especially when these headphones are not cleaned regularly.
Though it might be gross and intense to watch, this shows how neglecting the skin in the ears could affect the skin.
Watch the video below:
Remember, if you have a bad case of blackheads (even in other parts of your face), you should visit a doctor for further evaluation and treatment. Don't go popping those blackheads by yourself to prevent infection.